Cyprus Visa Information

Cyprus Visa Information

You might be traveling to the Republic of Cyprus for different reasons whether it is for a short stay as a tourist or a businessperson or with a purpose of employment and residence. You could also stop in Cyprus as a transit passenger. In any way, there are cases when a visa of a certain kind is required.

Categories of visas:

Short-stay or travel visas, including multiple-entry visas.

If you are traveling to the Republic of Cyprus for reasons other than immigration, and your visit does not exceed three months, you might need a travel visa. The travel visa gives you the right for a continuous visit or several visits to Cyprus. The duration of visits in total should not exceed three months in any half of a year from the date of the first visit. In general the short-stay Cyprus visa is issued for one or several visits.
In case you need to come to Cyprus often (business trips etc.) it is possible to get a multiple-entry visa for several visits. The total duration of the visits should not exceed three months in any half of a year from the date of the first entry. The multiple-entry Cyprus visa is valid for one year. In exceptional cases it might be valid for more than a year but no more than five years for certain categories of persons.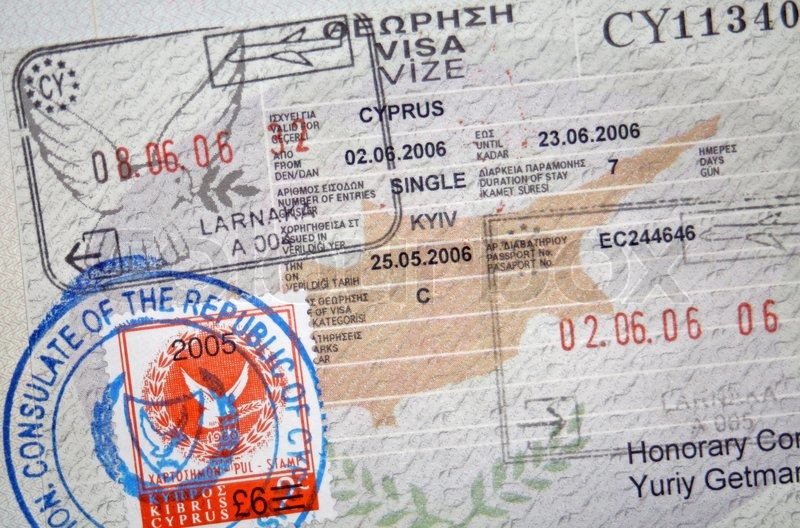 Long-stay Cyprus Visa Information


If you are planning to stay in Cyprus for more than three months you will have to apply for a long-stay visa.
Airport transit visa (ATV)
If you have to pass through the international transit area of Cypriot airports without actually entering the national territory of Cyprus during a stop-over or transfer between two stages of an international flight, you might need an Airport Transit Visa. The requirement to have this type of visa is an exception to the general rule to transit without a visa through Cyprus.
Transit Cyprus visas
If you are traveling from one country to another country and you have to pass through the territory of the Republic of Cyprus, to do so you might need a Transit Visa. This visa may be issued for one transit, or exceptionally for several transits. The duration of each transit case should not exceed five days. The transit visa is issued provided that the entry of the traveler into the territory of the destination country is guaranteed and that the route taken normally requires transit through Cyprus.
Group Cyprus visas
This is a transit visa or a visa limited to a maximum of thirty days, which may be affixed to a group passport - except where national legislation provides otherwise - issued to a group of travelers formed prior to the decision to travel. The group visa is issued, provided that the members of the group enter the territory, stay there and leave it as a group.
Group visas may be issued to groups of between 5 and 50 people. The person in charge of the group should possess an individual passport and, where necessary, an individual visa.

More information www.cyprusvisa.eu