Permanent residence

Permanent residence permit visa in Cyprus. According to the law, a non-resident of Cyprus, who owns property in Cyprus has the right for a residence permit. There are no restrictions for the EU citizens. In order to obtain a residence permit, you should only fill out an application form at the Immigration Service.
The non-EU citizens, should comply with the following procedure:

Temporary residence permit

To obtain a temporary residence permit, please contact the Immigration Office of your city and submit the following documents:

• passport
• a copy of your bank statement
• any other document showing income sources
• four passport-type photos
• a copy of the property purchase contract
• medical insurance.
• a bank deposit of 550 Eeuros, which is used in case if you commit a crime and the authorities have to deport you

Temporary residence permit is issued for a period of 1 to 4 years. Its term may be extended upon request.
One more thing you need to keep in mind is that you need to take care of the permit extension when there is one month left until the expiry of a temporary residence permit.
Permanent residence permit visa in Cyprus


To obtain a permanent residence permit, non-residents must submit application form and provide evidence that they and their families financially are self-sufficient and continuously stayed in Cyprus for 5 years.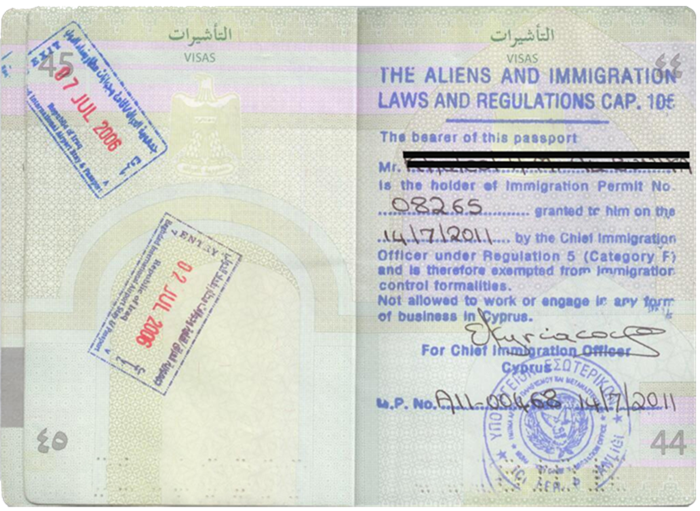 They also have to fall under one of the categories described below:

First category: those who have a bank accounts in Cyprus, a real estate purchase agreement and documents certifying the annual income is not less than € 9.570 per person.
Second category: those who are interested in opening of a business in Cyprus.
Third category: those who are interested in opening of a business segment in Cyprus, provided that their actions will not affect the economic situation negatively. A start-up capital in this case should amount to 255,000 Euros.
Fourth category: non-residents who intend to work in local organizations. In this case a permit is issued if the employment of that person will not increase unemployment among residents in the respective field.
Application forms for residence permits are available in the Ministry of Foreign Affairs.


The following documents should be enclosed to the application:


• passport
• copy of the property purchase contract
• copies of payments made in favor of the contractor for the acquired property
• copy of the bank statement
• any other document showing income sources
• four passport-type photos
• a letter of guarantee issued by your bank in Cyprus


In order to obtain a residency permit, you need to contact your lawyer or an Immigration Office in your city.
For more detailed information, please contact the Ministry of Internal Affairs of the Republic of Cyprus by phones:

357 22 867-400
357 22 8674 2001
357 22 867 403
357 22 8674 2005